The Best IPTV BOX 2021 – SuperBox S2 Pro Review
The Best IPTV BOX 2021 – SuperBox S2 Pro Review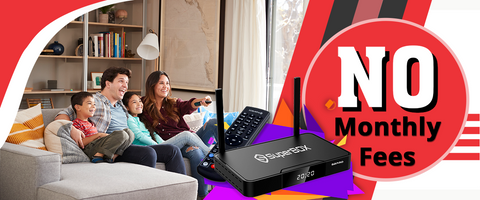 I have  got one SuperBox S2 Pro which is a fully loaded Android tv box what does that means you don't have a monthly iptv subscription cost.Also You don't have a yearly fees. You don't have to pay anything with it.The services come with it has all kinds of free movies 10000  and more than 11 000 on demand movies .it  also has tv ketchup a full tv guide. It's got everything you need .
 iIf you  know what the superbox is you're going to love it.And if you have an older version of the superbox S1Pro,or SuperBox S1Plus, there's somethings that they did on this one that's completely different.
SuperBox S2Pro  specs
OS: Android 9.0 Nougat
Chipset: Quad-core ARM Cortex-A53 Processor
Memory: 2GB DDR3 Memory
Storage: 16GB eMMC Internal Storage
Expand Memory: Support MicroSD(TF), Up to 128GB
USB Port: 1 X USB 2.0, 1 X USB 3.0
AV Output: 1x3.5mm Jack
Card Reader: 1x Micro SD(TF) Slot
Antenna: External independent Wi-Fi antenna
Wi-Fi : Support 802.11 a/b/g/n/ac Dual Band WiFi
Network: 10/100M LAN
HDMI Resolution: Ultra HD 6K
High Definition video output: 6K (6144x3160 pixel ) 60fps
1 Years Warranty Period
this box is very very simple and easy to use . it's a tv box it's not a gaming box if you want a box where you can play games get an nvidia shield. if you want a box that just plays tv and
you don't have to deal with updating it because they do it for you this is the box you want the live tv on here is amazing.
it's got the full sport packages it's got ketchup means if you mess a game you can watch it a day two three days four even up to seven days later you can watch those pay-per-view bites you can watch those nfl games whatever you want to watch you can watch. later it also has a full guide on the new version. if you go to the live tv section which is just right over here right there click on that there's a program called bluetv now bluetv version two so it's the new version and it's only available on the super box.
After we open it you can see it loads up does that not look different than what you saw maybe with the older version of the superbox S1PRO ,But it's different .
We could also watch the sports network with SuperBox S2Pro,
About BLueTV.
After you open Bluetv which is the best No fees iptv apk 2021.You can go to the top go to network tv and it's got all the network tv channels on here it takes a second to load up and there's just tons and tons of channels here .I just scroll down here it's loading up right now all kinds of channels look at all of these channels just tons and tons there's Disney channels you've got the food network you've got all the fox channels there's not a channel that you can't get.With it  you could cut the cable cord,haha.
About Favorite channels
on this box and that's what i love about it and what i usually do is the favorite functions .I could just save them to my favorites list and then it'll be in the favorites category Here I .just to give you an example .let's just
say i wanted to watch nicktoons. I love nicktoons i want to have nicktoons for the kids, I just hold it down for a couple seconds. Then I get a little star and then when you head to the top you go to favorites you can see nicktoons there.To makes it easier you can go through all the channels select the ones you want save them in your favorites.
About Local Channels
It's definitely the way to go and you go over to the right you can go to regionals so this is where you're going to get some of the the best ways to watch sports to be honest is through the regional locals you can get the local broadcasts of a lot of those sports a lot of the college football baseball basketball doesn't matter what sport this is a good way to do it through your regionals or if you just like to watch your local news this is where you would do it so i'm currently in ohio so i might want to watch this one here and it looks like there's a game going on right now notre dame and north Carolina and uh so anyways just go to the top here again
About 24/7 and PPV
and you can go to the right there's your sports networks here they are right there there's all kinds pretty much any sport you can think of and keep going to the right and you're going to get the 24 7 channels 24 7 ufc would be the only ones i would usually watch on there because everything's pretty much on demand then you've got your pay-per-view events and you can see some pay-per-view events that are going on right now and then you got your packages your mba your major league baseball your nfl ncaa football ncaa basketball nhl .
About Canada and Latino Channels
 Canada and latino channels that's what's available on this box tons and tons of stuff click on canada you're going to see all of the canada channels here and there's a lot on here look at all of these tons and tons and tons pretty much anything you could want on this box
About BlueVOD
so let's go back to the home screen all right then you've got your on video on demand and this is great because you've got just tons and tons of movies on this thing as you can see if you go to the top go to movies there are currently let's go down here to movies there are currently 11 385 on-demand movies and these movies are all in hd you don't have to worry about those camcorder versions that you get like on cinema hd things like that it's all really really good stuff here and you can go over here you can go by let's just say you wanted to go by category new releases there's your new releases action adventure and so forth so forth
they're all on here tons and tons of movies of course you can search for a movie at the top if you want to do that as well and then you've got your tv series section right up here as well
and this will have tons of tv series let me see how many are on here now 1808 series and then of course there's episodes within that series as well and these are sorted by the newest ones on there and you can go by new release again and those are some of the newer shows available out there and there's tons of them on here guys tons and tons and tons of tv shows so let's talk about what's new for those of you that are already familiar with the superbox so
you saw that on the live tv that you had the guide now which makes it a lot easier well .After you setting the parent controll password you will also find the 18+ category movies.
About DVR&Sports
there's something called playback now this is really amazing because for me the biggest problem that i had with a tv box like say the super box was that you if you missed the sporting event you missed the sporting event and i actually bought a cloner box here which i plug it into so that i can record those sporting events that's the only thing that i really care about recording because on demand tv series everything's on there so I can find everything except for sports that was my big thing they solved that problem with the sports playback so if you click on the playback button right here these are all of the days the last seven days and these are all the channels that you can do the playback so let me just show you for example pay-per-view so if you click on the pay-per-view right here and move over to there was a fights on saturday i believe these are all of the saturday pay-per-view events it looks like there was something on sunday as well let's see what was on Sunday so there were some pay-per-view events on sunday as well you can now watch them even if you missed them let's say you had to work or let's say you forgot about it or you fell asleep and you missed it you go to playback you can watch those events another example would be football there was football this thursday and a lot of us were busy with our families for the holidays so we might have missed nfl so if you click on nfl and then you go to thursday which is right here past it there we go there's the games on demand they have the game pass on here so you can go back and watch those games if you missed it which is really really nice so that 's the playback section the playback section really is pretty darn fantastic because now I don't have to worry about missing those sporting events
About SuperBox SetUp
let's go back to the home screen right here now the first thing you're going to want to do when you get the box is you're going to want to go to the app store which will be located right in the center of your super box okay once you click on that you'll be able to see everything right here that is in this box already built in there's all of this i didn't add any of this this was already on here so the first thing you're going to want to do is decide what do i want on my box on my home screen to do that all you need to do is click the down arrow when you want them so obviously you're going to want the blue vod you're going to want to watch the blue tv as well playback of course I like to have the app store cyber flicks i do like cinema hd i like to get some of the movies on there tv shows that are pretty rare sometimes
they'll be available on there but not on here and then you've got pluto tv and all kinds here Netflix if you love netflix you can  actually put netflix on here youtube of course and then a speed tester are all ones that i like to have on mine and if you have subscriptions to dazn
or extreme up here or maybe sling something like that that's how you put it so the first thing you do is you set up your box and you do that once you've done that you go back here
to the home screen and this is where you add you can see I added a few here and if you click here you can actually add one of these programs whichever one you want that you've downloaded now right onto your home screen just for easy access and you'll also want to do
that in the live tv section as well where you're going to go to the ad and then you're going to select the blue tv which i've already done so the first thing you do when you set your
box up is you set blue blue tv here blue vod there and then you do your hot buttons right down here so it's really easy setup it's basically plug and play
About SuperBox AfterSales Help
SuperBox official has an excellent services,SuperBox support 1month money back guarentee and 1 year warranty. if you have any problems on your box at all really cool feature you've got help right down here you just go right down here right here and you and you can get help on your box so if you have any problems you're having any issues with it or you have any questions or if there's specific channels or tv shows or programs or movies or whatever help you need with your box they have support right down here and if you do download something on your box and you want to get rid of it you simply click that right there and you can delete it and there's some other buttons on there as well just to clean up your super box that you like to do on a regular basis so what are the specs of this box here well this super box pro the s2 pro
About the Difference with SuperBox S1PRo
new one so the older version of the superbox used android 7.0 and it was a little bit outdated it's a very stable version but it is a little outdated they updated it to 9.0 so now you've got nine on here as far as storage and like ram and rom and all the specs of this box i will put all that information down in the description of this video
Why we need buy a SuperBox
i'll just talk about it a little bit keep in mind this box here is a tv box this is not a blazing fast android that plays games that does all kinds of animations and all this fancy stuff that's not what this boxes market is this is a tv box this is meant to give you hours and hours of entertainment on your tv it's a box that you plug in and you enjoy tv you enjoy movies let them do all the work setting it up if you want a box that you can just play games and have fun and just really go to town on it then nvidia shield or the gt king pro if you're more of a techie and you want to manage your own apps if you want to add your own iptv service to it  and really you can handle all doing all of those things then maybe this isn't the box for you this is a box for somebody that just wants to plug it in and watch tv get rid of that cable bill
About SuperBox Cost
you never have to do that how much is the box 299 dollars that's very affordable if you think about it because i was paying almost that every single month for cable and i didn't have
pay-per-view i didn't have the full sports package and certainly  playback for the sports
what this box is it has everything you need already built in you don't need to program it you don't need to update it you don't let them do all that that's what you paid them for that's what you paid the big bucks for a good box for was so that they do the work they update the movies on a regular basis they update the tv shows on a regular basis they update the programming on a regular basis.
---
2 comments
---
---